Adjustable strap tool remover for watch chain hand tool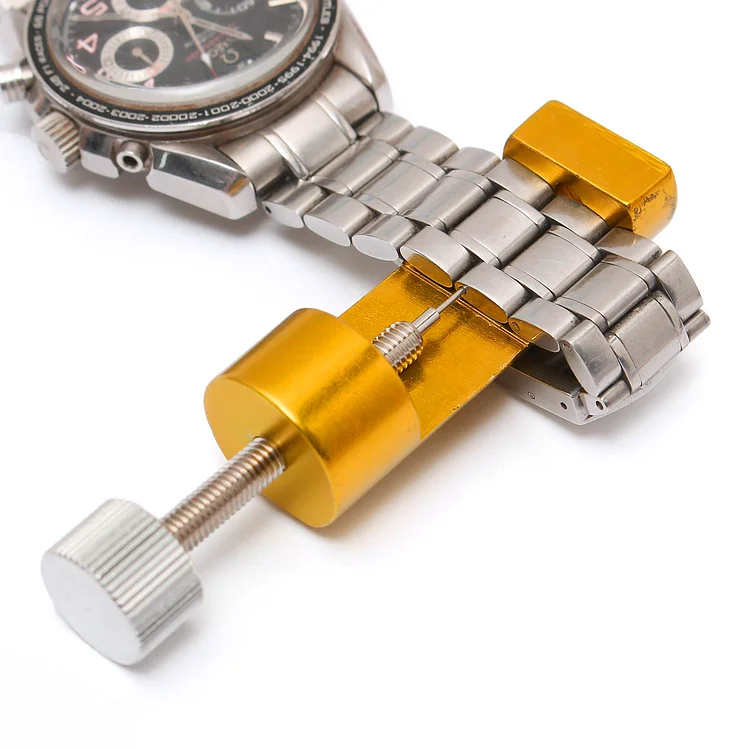 Adjustable strap tool remover for watch chain hand tool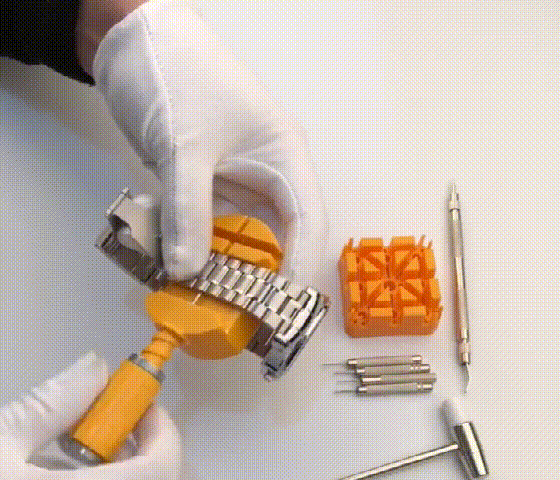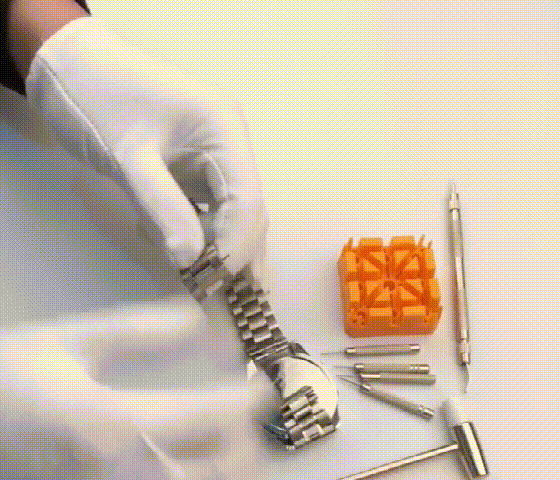 Picture 1 (Golden Yellow )
1.This is a brand new watch band link remover for bracelet adjustments
2.Fits most watch bands (Workable Size Up To 20mm wide)
3.Easy to remove or add to your watch band.
4.Adjustable base to account for different band thickness
6.Every watch collector needs a watch adjuster as part of their collection.
7.Stop wasting money taking it to a jeweler when you can do it yourself.
8.Easily alter your watch at home without scratching the band.
2.

Kit Quantity:

Metal Watch Band Adjuster +3 Spare Needle
5.Size: 6.5 x 1.5 x 1.5cm/2.56" x 0.59" x 0.59" (maximum adjustable width 3.2cm/1.26")
1.Size: watch band remover: 7.5 X 3 X 2.5 cm/2.95 X 1.18 X 0.98 in, Large double ears batch: 13.5 cm/5.31 in
3.The specific number: 1 X Large double ears batch, 1 X small green bottle, 2 pairs x spare pins, 1 X metal watch band remover, 3 X spare remover pin
4.Product weight: Approx. 95g
1.Material: Aluminum alloy
2.Size: 7 X 2.5 X 2.5 cm/2.76 X 0.98 X 0.98 in
3.The maximum adjustable width of 3.2 cm/1.26 in (with 3 pin)
4.Weight: 37.8g (with box)
Picture 5(silver, blue, green)
1.Material: complex vanadium steel
2.Size: About 7cm/2.76"X2.5cm/0.98" X2.2cm/0.87"
3.Weight: 62 g
4.Color: silver, blue, green
2.
Product size: 6.4cmx
1.4cmx1.3cm/2.51*0.55*0.51
''
Picture 7(silver)
1.Material: stainless steel
2.Size: 130*10mm/5.11*0.39''
3.Weight: 42g
Picture 8(silver )
Material: metal
Size: 9.4*2cm/3.7*0.78''
Weight: 90g
Alt